Cycling Back to Gargrave
Monday 19 September 2011 Filed in: General
It all seemed so easy in theory – well perhaps not so easy. The idea was to do parts of the Yorkshire Dales Cycleway in a loop from home in Middlesbrough, in the process returning our new Orbit tandem to JD Tandems for its first service, requiring only a modest diversion to Gargrave. This was also to be our first retirement adventure to be enjoyed whilst the September weather and early autumn colours would add to the experience. The planned route from home took in Richmond, then Swaledale before crossing over to Wensleydale to stay the second night in Hawes. From there we would go via Dentdale and Ingleton to Clapham for the third night's stay. All of this was intended as a prelude to the fourth day, which was always going to be the hardest of the trip, from Gargrave to near Leyburn. However, Hurricane Katia intervened to make life more interesting and certainly more tiring.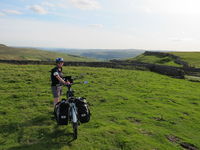 After debating the wisdom of cycling at all in 50-60mph gusts we set off on what should have been a straightforward ride 'to see how it goes'. Unsurprisingly, we were blown about quite a bit. Passing some field gate openings and riding underneath some of the wind blasted trees was definitely scary. The head wind meant that we were pretty tired by the time we reached Richmond. The combination of tiredness and the forecast of high winds on day two meant that we decided to vary our planned route to avoid the higher moors between Swaledale and Wensleydale. Unfortunately the slightly lower level route direct to Redmire was also into the wind which was by this time driving some very nasty showers. However we made it to Hawes in fairly good time but not without a lot of combined effort.
Given the exertions of the first two days a descent into Dentdale (with the necessary climb to reach Kingsdale and Ingleton) was not an attractive proposition. It would be enough to climb to Ribblehead via Widdale into the continued 'fresh breeze'. We were lucky to time our arrival at Ribblehead Station to be able see the last steam train of the summer crossing the viaduct. From Ribblehead the descent to Ingleton (pausing at the Old Hill Inn) was quite rapid and was only interrupted briefly by a harsh enough shower which forced us to take shelter at White Scar Cave. Despite being an easier day it was still a relief to arrive in Clapham early in the afternoon.
An excellent meal at our B and B set us up for our anticipated 'big' day. Leaving Clapham we travelled along the Eastern edge of the Forest of Bowland, with great views of Ingleborough and Pen-y-ghent, to Settle. Our first steep climb, to reach Scaleber Force, followed in short order before we reached Gargrave via Airton. Whilst we enjoyed a lift into the village and lunch in a cyclist's cafe the tandem was given the benefit of John's expert attention. Before leaving, we were fortified with more tea from Ruth. We were also given useful advice by John, Ruth and Jim about the next stage of the trip. From Gargrave we cycled via Grassington and Conistone to Kettlewell where the road reared steeply immediately on leaving the village. This steep section turned out to be a prelude to the even steeper and notorious Park Rash. Needless to say, with a laden tandem, the 1:4 hairpins necessitated quite a lot of pushing. This was however, interrupted by some cycling on the gentler sections. Reaching the top felt like a significant achievement and we were rewarded with fabulous views over Wharfedale.
Given that we still had some way to go we weren't able to stay too long at the top before beginning the descent into Coverdale. Just as we set off again we were treated to the sight of an owl quartering the high pasture searching for prey. Even with two or three steep but short climbs it was a delight to cycle through this relatively untraveled valley, especially in the late afternoon sunshine. Pausing only for a late and brief refuelling stop in Middleham we crossed Wensleydale to make the comparatively gentle climb to Finghall near Leyburn. By this time the sun was beginning to set and we had done 53 miles with 5000 feet of ascent. It would be fair to say that we were pretty tired by this stage.
Our final day took us mostly on familiar roads via Bedale and through the Vale of Mowbray to Hutton Rudby and home. The only minor interruption to straightforward progress was an unsignposted diversion on our planned route necessitated by road works on the A1 at Leaming bar.
By the time we reached home we were well pleased with our achievement and had enjoyed (if that's the right word!) some memorable cycling and some magnificent views – all by riding from our front door. We also made a great start to retirement and gave our new tandem a good test (which it passed easily!).